Nickel comes to Belgium
Become a Nickel distributor and:
Diversify your service offer
Attract new customers
Increase your income
No commission for you for Nickel card payments via our payment terminal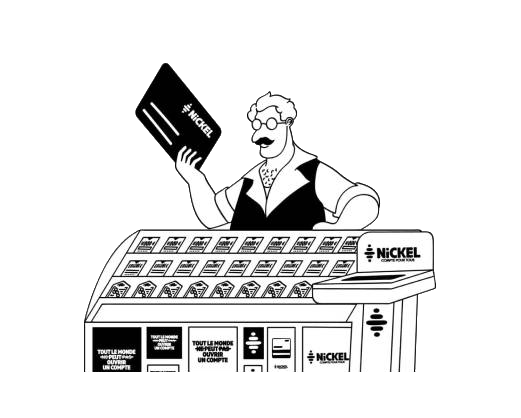 Text
What is Nickel?
1 account, 1 card, 1 IBAN, all in 5 minutes for €20 per year at a Nickel Point of sale registered as a payment services agent with the Autorité de Contrôle Prudentiel et de Résolution.
Nickel is a simple and accessible payment solution for paying and being paid.
Text
Leave us your details and we will contact you without obligation.
La Financière des Paiements Électroniques Belgium (Nickel) collects and processes information about you in order to contact you by telephone and/or email to present Nickel's offer as a possible future distributor of its products. This data will be kept by Nickel for a period of 3 years. For more information on how Nickel processes your personal data and your rights under the General Data Protection Regulation (GDPR) and Nickel's obligations in this regard, please see our Privacy Notice available on our website.
93% of satisfied customers
Text
"I have been with Nickel for 7 years and I am really satisfied, everything is simple and fast. The advisors are attentive and really professional. I recommend Nickel !"
Cyril - Truspilot
Text
"Customer service that listens! Quick and clear answer! Very satisfied!"
Mickael - Truspilot
Text
"I have been using Nickel for several months now, everything is good and simple. The service is ultra-fast, I highly recommend Nickel"
Heidi - Truspilot
Text
Prodipresse is delighted with the launch of Nickel in Belgium. We appreciate and welcome the choice of the network of press-booksellers to offer the Nickel banking service, which is simple and accessible to all without exception. This partnership confirms our position as a local business and public utility at a time when bank branches are increasingly closing their doors. Nickel is a real "plus" for our businesses, a solution that customers have been waiting for and a great opportunity that our network will seize. Welcome to Nickel Belgium and I am sure that the bookshop owners will be pleased to offer this service to all their customers in the near future.

Xavier Deville, Chairman of Prodipresse
Text
Nickel-Perstablo partnership A diversification project counts! Today's booksellers are looking for such initiatives, and given the experience and success that Nickel has in France and Spain, it seems obvious that this can also be realised in Belgium in a transparent cooperation between both parties and the booksellers in Flanders. We look forward to introducing this financial service to the Flemish consumer."

Yannick Gyssens, President of Perstablo